STAR CLUB – astrology & place
December 9th 7-9pm – Victoria, BC
near Saxe Point Park, register for full directions.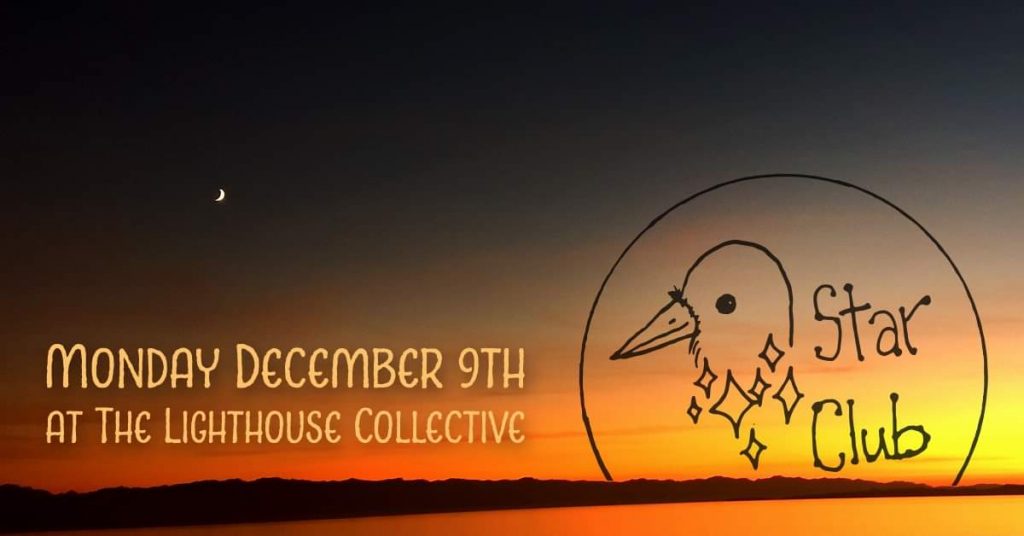 We would like to acknowledge that these events are being held on the ancestral homelands of the Lekwungen speaking peoples now known as the Esquimalt and Songhees Nations, specifically the Kosampson family group. This acknowledgement informs how, through these gatherings, we will strive towards healing and cultivating meaningful decolonial ways of being on Indigenous land. We ask attendees to be critical of the colonial constructs and to respect and honour a diversity of traditional and cultural ways of understanding.
Western astrology, with its main roots from Ancient Greece to the European Renaissance, and from Victorian Britain to the North American New Age, is an imperial and colonial imposition on the sky. Yet increasingly, Western astrology is a tool which aids us in wrangling with intersections of privilege and power, and negotiating relationships with ancestors, the land, and each other.
Please join Ru and Pallas at the LightHouse Collective for an evening of astrology, art, and conversation. So much of our astrological knowledge these days comes from screens rather than the sky. With Uranus now in Taurus, gathering in the sensual realm is increasingly integral and radical. Pallas will speak to and facilitate discussion about the current happenings in the cosmos and how we may place ourselves within them, and Ru will bring an embodied art practice to developing our relationship with the astrological symbols. If the night is clear, we will visit the stars in the backyard.
We anticipate the level of discussion to be beginner-intermediate. Bring your questions about current alignments, cycles, general astrological know how. We will limit personal birth chart delineation for the sake of time and the collective nature of the gathering, but our charts interact with each other and the sky so undoubtedly we'll be processing together.
Pre-registration necessary. Limited to 20 people.
Email Pallas at pallaswands@gmail.com to register and receive more detailed directions. Optional: include your birth date/time/place to get a printed copy of your circular birth chart.
$15-40 PWYC. Cash at the door accepted or e-transfer Pallas beforehand.
In a small gesture of reparation for historical harm, recognition of continued colonial occupation and violence, and gratitude for the ability to gather in these unceded territories, all funds from this event will go to the SṈIDȻEȽ Resiliency Project with their consent.
Gratitude to the LightHouse collective for graciously donating their space for our gathering.
Ru (they/them)- a practicing naturalist, artist and outdoor educator, ru is currently working at the royal bc museum as a learning lab and family programs facilitator, organizing with the queering schools network and working towards their forest school practitioner certification. They are a novice when it comes to astrology and through this workshop series seeks to explore the possible relationships/intersections between nature connection, decolonization and astrology.
Pallas (they/them) – studying astrology since they were a child, with a professional consultation practice since 2015, Pallas takes a queer relational approach to western psychological astrology using traditional and modern techniques. Born and raised a white settler on Treaty 2 lands, Pallas recently relocated to these territories after years of transient study, and hopes to offer their knowledge and service to the communities, lands, and spirits at home here. Find more about their practice at nineofwands.com
Accessibility Statement: Entrance: there are 3 wide steps to enter the front door and one step down to the wooden floor landing of the sunroom where the workshop will take place. There is one ungendered washroom that is not accessible to wheelchairs on the main floor. Seating provided can include floor pillows or proper chairs upon request (there's lots of options, just ask what you need to be comfy). Lighting includes one dimmable over head light with two standing lamps that provide softer light. No ASL will be present (we are currently seeking an interpreter with astrological interest).
Please email Pallas at pallaswands@gmail.com with any questions or inquiries related to accessibility or otherwise.